Boomers Re-Sign Championship Series MVP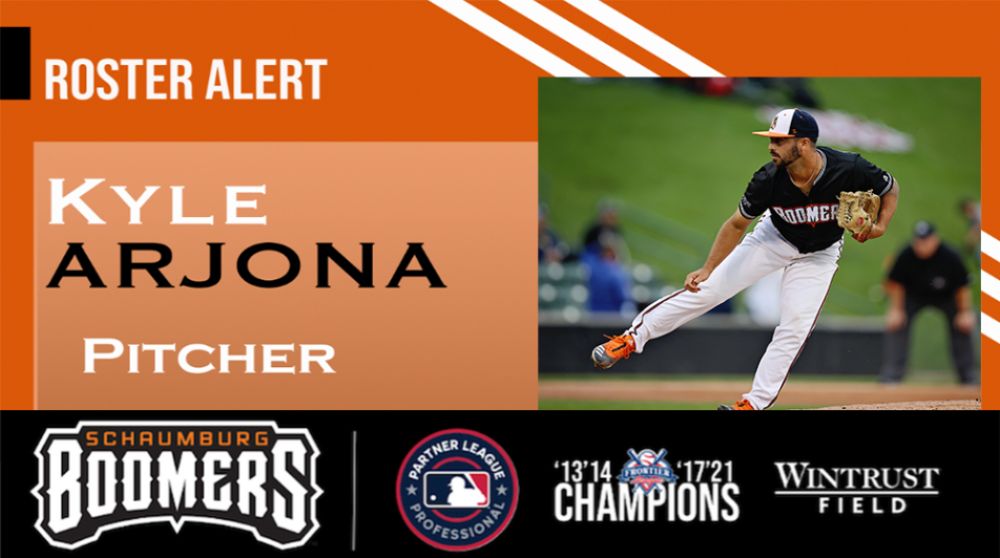 Schaumburg, IL - The Schaumburg Boomers have re-signed starter Kyle Arjona. The starter will be back for his second season with the Boomers.
Arjona was signed at the beginning of the 2021 season, appeared in 19 games, and led the team in innings pitched (119.2IP). Arjona struck out 91 batters in those innings with an ERA of 3.38, all as a starter.
Arjona started three games in the Frontier League playoffs and won them all, including the decisive Game 5 of the Championship Series to be named the series MVP. After winning the 2021 Frontier League Championship, Arjona went on to play for the Tomateros de Culiacan, where he appeared in 4 games.
"Anytime you can have the MVP of the championship series back, you can't help but feel good about it. Kyle was one of the most consistent pitchers in the league and, at times, dominant. We look forward to him building on his success and anchoring our rotation again," said Manager Jamie Bennett.
Arjona attended the University of Jacksonville in Jacksonville, Florida, where he appeared in 25 games and innings (38IP). He averaged a 3.79 ERA to go along with 25 strikeouts for the Dolphin's baseball team. After his one season in Jacksonville, Arjona transferred to the University of New Orleans, located in New Orleans, Louisiana. He played one season for the Privateer in 2018, where he appeared in 18 games and innings (65.1IP). During the 2018 season, Arjona had an ERA of 4.68 with 55 strikeouts for the Privateer's baseball team. After his college career, Arjona played for the Lehigh Valley IronPigs (AAA) and the Clearwater Threshers (A+) affiliates of the Philadelphia Phillies.
The Boomers return home to Wintrust Field in the spring looking to defend their 2021 Frontier League Championship.
Season ticket packages and group hospitality offerings for the 2022 season can be reserved by calling (847)461-3695 or emailing [email protected]