Billy Strings Coming to Wintrust Field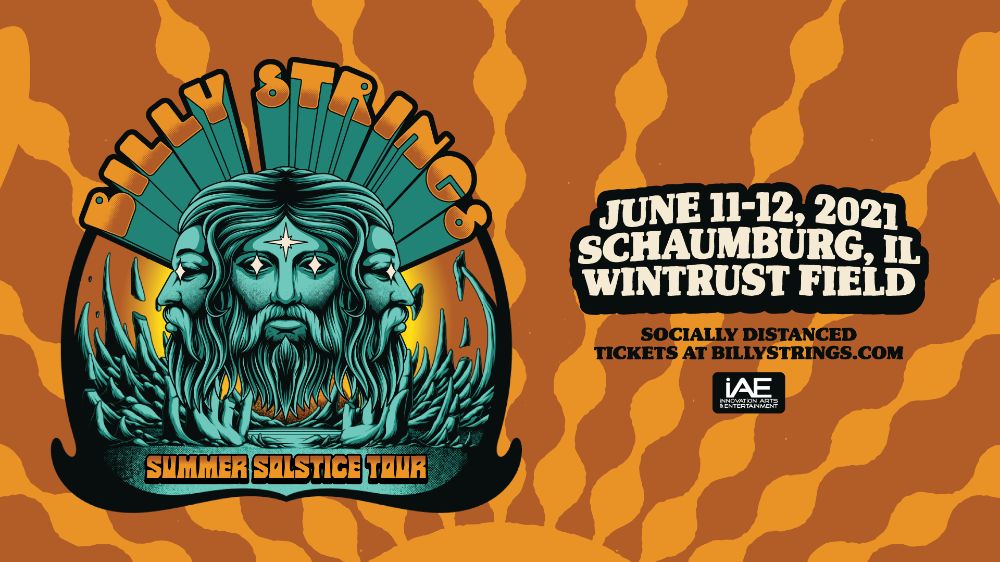 GRAMMY Award Winning Billy Strings is performing at Wintrust Field for 2 nights, on June 11 & 12 at Wintrust Field!
Tickets will go on sale this Friday, May 7 at 9:00am CT.
Ticket Information
GA sections are sold in groups of 4 and pods will be assigned on first come first basis. Chairs allowed for Pod section
Buy Tickets HERE
Frequently Asked Questions
Location
Wintrust Field
1999 S Springinsguth Rd
Schaumburg, IL 60193
Dates & Hours
Friday, June 11, 2021 & Saturday, June 12, 2021
Parking lot opens at 5:30 p.m.
Doors open at 6:00 p.m.
Show begins at 7:30 p.m.
Show approximate end time is 10:30 p.m.
How does ticketing/seating work?
If you want 100% confidence in your ticket purchase, purchase your tickets from Ticketmaster.com. Only mobile tickets will be valid and tickets purchased through a third-party will not be permitted entry to the event. All seating is socially distanced adhering to current State and CDC guidelines.
There are two types of tickets available:
General Admission (GA) Pod Seating requires the purchase of the entire pod, which is 4 tickets. GA Pod Seating is located on Field Level and patrons are permitted to bring chairs as Wintrust Field will not provide seating.
Reserved Seating is available in groups of 2 or 4 people in a single transaction and is located in the Concourse Level.
If tickets are still available on the day of the event, no cash sales will be accepted at the Box Office.
All ticket sales are final and no refunds will be offered, except in the event of a cancellation. Your tickets may only be refunded when purchased through the official Ticketmaster ticketing system.
I purchased tickets in a group of 4, can I add more people?
No, the maximum number of people permitted in a group is 4 people.
Where is the entrance?
Patrons who purchased GA1, GA2, and Reserved Seating in Sections A-I should use the 1st Base Gate Entrance.
Patrons who purchased GA2, GA3, and Reserved Seating in Sections J-O should use the 3rd Base Gate Entrance.
ADA entrance is the Front Entrance Gate.
Will there be alcohol sold?
Yes! Patrons wishing to purchase alcohol at Wintrust Field must show proper identification to the Boomers Security Staff.
Is the event rain or shine?
Yes, this event is rain or shine. Please check the Boomers website at www.boomersbaseball.com and all social media platforms for updates.
What ages are allowed?
This is an all ages event. All attendees are required to purchase a full price ticket regardless of age.
Will reentry be allowed?
No.
Is there ADA seating available?
Yes! Please enter the stadium through the Front Entrance. There is an elevator to take patrons up to the concourse level. Accessible seating is located on the concourse behind selected sections.
Parking
Parking is available for purchase and will open at 5:30 p.m. Tailgating is not permitted at Wintrust Field per Village of Schaumburg regulations. Handicapped parking is available for patrons displaying the proper permit.
Restrooms
Restrooms are located at several locations around the concourse. There is a unisex Family Restroom on each baseline as well.
Smoking
There is no smoking allowed at any time within Wintrust Field, per Illinois state law. Fans who wish to smoke must leave the stadium through the first or third base gate, descend to the bottom of the stairs, where they can smoke at the curb level. Cigarette receptacles are located in this area, as well.
Concessions
There are a variety of food options available. More information about the ordering process will be provided closer to the event date.
Allowed Items
One factory-sealed bottle of water
Folding chairs
Cellphones
Non-aerosol sunscreen and bug spray
Binoculars
Small, point and shoot digital camera
Hats and sunglasses
Earplugs
Light blankets and towels, maximum size is 8' x 8'
Folding and camping chairs
Baby strollers
Backpacks, draw-string bags, large purses, fanny packs, or duffle bags. All bags are subjuect to inspection.
Prohibited Items
Symptoms of COVID
Drugs and drug paraphernalia
Hydration packs
Coolers & picnic baskets
Wagons & wheeled carts
Outside food and beverages
Glass containers
Professional video equipment and Go Pros
Laptops or tablets
Professional cameras and cameras with removable lenses
Selfie sticks and monopods
Lasers and laser pointers
Drones
Umbrellas
Hula Hoops
Totems, flags and banners
Inflatables of any type including beach balls and balloons
Frisbees and all sports balls
Confetti and glitter
Spray paint, markers, and sharpies
Aerosol cans, including sunscreen and bug spray
Whistles and air horns
Fireworks and explosives
Musical instruments of any kind
Firearms, knives, pocket knives, and weapons of any kind
Pets (with exception of service animals)
Unauthorized vending or advertising Any item deemed inappropriate by Event Staff
Tailgating **Wintrust Field DOES NOT provide on-site storage for prohibited items.**
What's the bag policy?
Every bag carried into Wintrust Field is subject to inspection.
COVID-19
TICKET HOLDERS VOLUNTARILY ASSUMES ALL RISKS, HAZARDS AND DANGERS emerging from or relating to the risk of contracting a communicable disease or illness (including exposure to COVID-19, virus, bacteria, or other causing illness or communicable disease), whether exposure occurs before, during or after the event at The Wintrust Field however it is contracted, and hereby waives all potential claims against Ticketmaster, Innovation Arts and Entertainment and the Wintrust Field relating to such risks.
If you are sick, have a fever, been in contact with someone who has tested positive for COVID-19, or have any COVID-19 symptoms on the day of an event, please return home. As a matter of public safety, the Wintrust Field has the right to refuse entry to anyone showing symptoms of COVID-19.
Ticket holders will be notified if Cook County Public Health requires contact information for contact tracing purposes.
Face masks covering your nose and mouth are required at all times except when actively eating or drinking.
Hand sanitizer stations are available around the concourse area.
Dedicated c