Live From the Lot Returns to Wintrust Field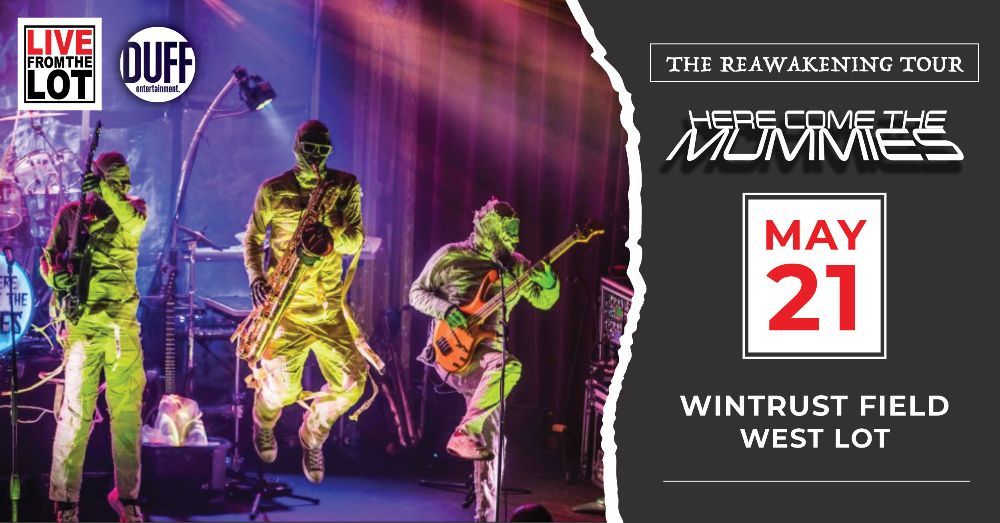 Friday, May 21
Live From the Lot: Here Come the Mummies
Wintrust Field - West Lot
Cursed after deflowering a great Pharaoh's daughter (or daughters), Here Come The Mummies (HCTM) have been delivering their brand of Terrifying Funk from Beyond the Grave since the year 2000 AD. While HCTM's lyrics leave little to the imagination, their wraps have been the topic of much speculation. Some say they are reincarnated Grammy winning studio musicians, wrapping themselves to escape record contracts. Others claim the band is the brainchild of sexy-man Scott Baio. Regardless, HCTM's mysterious personas, cunning song-craft, and unrelenting live show will bend your brain, and melt your face. Maybe that's why the ladies (and some dudes) can't stop losing their minds and soaking their shorts over these mayhem-inducing mavens of mirth.
Doors: 5:30pm
Show: 7:00pm
Things to know!
Limit 4 people per car and ticket, up to 2 additional passengers allowed for an extra charge. *One car per transaction. Each car will have their own "zone" located to the left side of their car. All guests must have a face mask for usage if they have to leave their vehicle zone. Fans can set up chairs to the left side of their cars. Dancing is encouraged (to the left of your car)! Food, beverage, and alcohol are available for purchase onsite. Drink responsibly! RVs and oversized vehicles are unfortunately NOT allowed.

Parking spaces within each section will be general admission, and you will be parked in the order you arrive by parking attendants. VIP tickets guarantee parking within the first five rows.
Concessions: There will be concessions and band merchandise avaible using a web based app. All items will be brought to your car. Please DO NOT bring any outside Food & Beverage. Thank you for your cooperation!